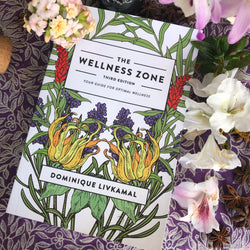 Medicine Room
THE WELLNESS ZONE 3rd EDITION Paperback
The Wellness Zone is your guide to optimal wellness. 
Now in its 3rd edition Dominique has captured the goodness f health care and packaged it into a bundle of information about your body and how to develop optimal wellness! 
We all are our own best doctors and this book is a guide to looking after you and your family naturally at home.
published by AEON in the UK  in August 2021.