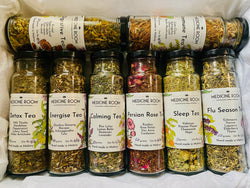 Medicine Room
Medicine Room Tea Box
  Our favourite 8 Herbal tea blends box! 
All in Glass bottles with 50 grams tea in each. Make perfect Naturopathic quality herbal teas at home. 
The herbal blends we are sending you are all delicious made with organic herbs and formulated for you to enjoy the benefits of herbal teas. 
Calming, Detox, Digestive, Energise, Flu season, Immunity  Persian rose Sleep