Recipe for Shitake Mushroom Risotto fro your Dinner party next week!
This is my latest risotto Vegan recipe for Shitake mushroom rice. Its made with our Nourishing organic vegan broth base and we added extra mushrooms for deliciousness. Perfect for your Dinner party 
I love cooking, its something I started at the age of two with my beautiful Swiss Grandma teaching me flavours and how to stir, blend and appreciate flavours and food balance. 
When I was younger the hospitality industry was my heaven. I spend many years cooking, waitressing and running establishments. I was teaching and I was developing recipes at every turn. 
I think its my happy place, making food, making medicines, making potions, making lotions and creating these for you. 
I also love a good dinner party. We plan, we cook, we set the table and we host. 
We had a dinner party on Thursday evening. It was going to be small, just three of us in the Library. Then I spoke to another friend and he said "Yes, Can I bring mum and dad? They are up here and we will bring cake" So we moved the menu and we moved the party to the herbal dispensary.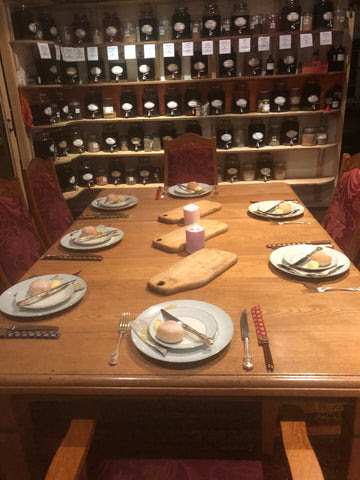 Then we organised everything, it was fun. 
Here is a recipe from the evening for a vegan Shitake Mushroom Risotto. 
1. Take 40 grams of our Vegan broth blend and add to 800 ml boiling hot water in a sauce pan and simmer for twenty minutes. 
2. Strain off the herbs and mix the liquid with 1 tablespoon sesame oil, 1 tablespoon organic miso paste, and 400ml of white wine or coconut cream or a combo of both to taste. ( Making a total of 1 litre  liquid) 
3. Slice 500 grams of reconstituted dry shitake mushroom   or 500 to 700 grams of fresh sliced shitake mushrooms. ( we used the fresh ones in our recipe) 
4. Dice one large onion, one capsicum and mix in liquid. 
5. Take 2.5 to 3 cups of rice of your choice. We used a short grain Australian rice. 
6. In a wide deep pan add 2 tablespoons of olive oil and pan fry the onion, capsicum until soft. Then gently stir in the rice for a few minutes allowing it to soak up some oil and vegetable essences. 
7. Slowly add in 250ml of the hot liquid and stir starting to cook the rice , keep adding the liquid and stiring for about five minutes.Until you have used half of the liquid.  Add in the shitake mushrooms at this stage. 
8. Now when it's gently simmering and you have gently stirred through the mushrooms add the rest of the liquid. Make sure its simmering well and then turn the heat off. Place a lid over the saucepan and leave for 30 minutes with no heat and do not open the lid as the steam will be cooking your risotto. 
9. Open the lid and serve as part of your meal. You can add some brwers yeast flakes and stir through or make it non vegan and add a cup of freshly grated parmesan cheese. We also added some sliced fresh herbs of choice from the garden. Dill, fennel, parsley etc. 
Serve and enjoy. 
Cooking is always such a pleasure and these delicious meals are nourishing and enjoyable. Having a Dinner party is always a good way to bring some vibrancy and happiness into your day. 
Have a lovely day 
Dom xoxo