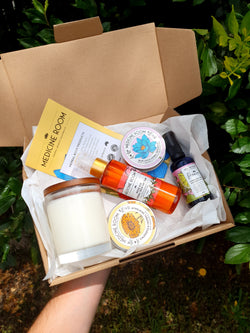 Medicine Room
Festive Gift Box... Your selection 4 products with Celebration Candle.
Happy festive Season 2023/24 
Give the gift of herbal love! 
Our Festive season gift box gives you any four body products of your choice. (You pick 4 products from Balms 60 gram, sprays 50ml , oils 100ml , nectars 100ml )
We give you a beautiful hand made soy candle in our Radiance aroma of cinnamon, orange and rose geranium. Hand made by Sharon who works with us! They smell beautiful and are exclusively made for this box.  
Gift wrapped and posted to your door or your loved one. 
This is an awesome gift for lovers of Medicine Room herbal body products. Posted out in early November 2023 when the candles arrive. 
Make your note at check out of what you want and we will send it. If you do not make a note then we will send you our choice of products.